The Gryphon's Beak
December, 2022
Happy Holidays to everyone. It has been a whirlwind year, and we have managed to come through not only intact, but better than when we started the year.
Our local focus on social capital and real preparedness, modeled on larger self-run groups, has resulted in a much improved reputation among both the Chicago fandom as well as the larger fandom community. How we approached Worldcon was the key driver here, and through this we we able to impress and show who we are.
We have also begun work on MARCON 2023, a convention one of our members took upon themselves to save from going under. His first choice was to secure David Weber as Guest of Honor, so we are planning to pull out all the stops and make this a convention to remember. Don't miss this!
There will also be some major changes at MARCON, as I will be stepping down as Fleet CO, and taking some time on the proverbial beach. Of course, we will be doing this at an award ceremony, and loading the results up to all the online places, showing off the Fleet in all our finery. More to come on that in time.
So, thank you, Happy Holidays, and be safe!
The Tradition Lives!
Oak Forest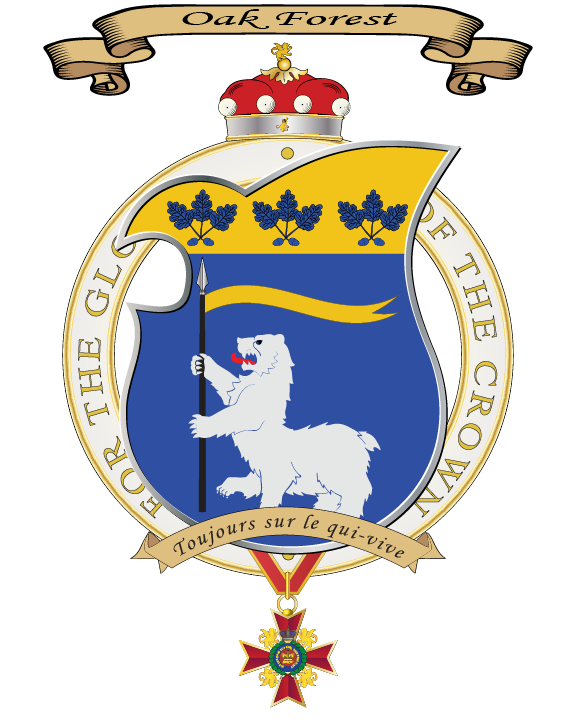 BuShips Directive 2211-03
Lieutenant Junior Grade Theisen:
You are hereby directed and required to proceed aboard HMS Demon (CLAC-62), there to take upon
yourself the duties and responsibilities of Commanding Officer, relieving Captain Senior Grade Sir Samuel Walter Dietzmann, QCB, GCE, MC, KR, SC, OG, CGM, GS, QBM, CBM, RMN, in service to the Crown.
Fail not in this charge at your peril.
Based upon the requirements of the service for your new billet, you are hereby brevetted to the rank of
CAPTAIN JUNIOR GRADE, RMN.
The above directive is effective on this date, 12 November 2022.
The Bureau of Ships wishes to express appreciation and thanks to CAPT(SG) Dietzmann for his service as
Commanding Officer of Demon and wish him all success in his future endeavors.
In Service to Her Majesty, the Sovereign Queen of the Star Kingdom of Manticore, Elizabeth III,
Issued By:
Zachary White, GCE, KDR, MC
Rear Admiral of the Red, RMN
Bureau of Ships, Deputy Third Space Lord
Baron Gilwell
By Direction:
Christopher Thompson, GCE, MC, OC, KR, SC, NS
Rear Admiral of the Green, RMN
Bureau of Ships, Third Space Lord
Baron Calabasas
This is a reminder that your Chapter and MarDet reports are due between the 1st and 10th of every EVEN numbered month. One thing I found amazingly helpful when filling them out was to use an online document (Google Docs, Word Online) to keep things organized as they happened. Then, when the reporting month hit, I could just copy and paste them into the reports form, and be done. No trying to remember what happened two months ago at the last minute!
And a reminder that Marksmanship submissions are due the 20th of the month, so we have time to correlate and get things set for the award issuance.
Marines – you now have a new online form to fill out for Bi-Monthly reports. The link is below. It will send the reports to your command triad, your Ship's CO and to ComForceCom. Please use this form to send in your report that is due on the 5th.
There is only one stipulation with the form at this time. Please do not use autofill. Autofill does not work properly and that information is deleted in the report. You can copy and paste information into the report but forgo the autofill function.
https://buships.trmnbureaus.info/rmmc/
RMMC Reporting Requirement Update
Reporting Requirements (FORCECOM Order 2210-A)
To: All Officers and Enlisted in the Royal Manticoran Marine Corps
From: General Sutherland, KSK, KDE, MC, SC, OG, NS, DSO
Re: Reporting Requirements (FORCECOM Order 2210-A)
As of the date of this Order, by my hand, and by the authority of the Sovereign, Queen of Manticore Elizabeth III, the following reporting requirements for all RMMC echelons will be required starting on January 1, 2023.
1) Reporting shall be completed by MARDET/Echelon commanders on a bi-monthly basis by completing the on-line RMMC reporting form https://buships.trmnbureaus.info/rmmc. MARDET/Echelon commanders are also required to forward the confirmation copy email to marineforcescommandreports@gmail.com. This is required due to issues with the TRMN email forwarding.
2) The reporting cycle shall be February, April, June, August, October, December of the calendar year with reports being due no sooner than the 1st of the Reporting month and no later than the 10th of the reporting month.
3) Bi-monthly reports shall be considered "on time" if received between the 1st and 10th day of the reporting month, "late" if received between the 11th and 20th day of the reporting month and "not reported" if received after the 20th day of the reporting month.
4) Exceptions to the above will be allowed on a case by case basis at the discretion of Marine Forces Command and, if possible, communicated prior to the start of the reporting period.
The below listed RMMC echelons have different requirements on the bi-monthly report form.
CORPS
CORPS are not required to fill in the "Ship Information" section of the bi-monthly report form.
Expeditionary Force
Expeditionary Force are not required to fill in the "Ship Information" section of the bi-monthly report form.
Regiment
Numbered Fleet/Expeditionary Force Regiments and additional Regiments in the Numbered Fleet/ Expeditionary Force that are not considered Marine Detachments are not required to fill in the "Ship Information" section of the bi-monthly report form.
Marine Detachments
Marine Detachments of Section, Squad, Platoon, Company, Re-enforced Company (Company + Platoon), Battalion, Regiment and Brigade are required to fill out the entire bi-monthly report form.
Assault Shuttles
Assault Shuttles are considered a Marine Detachment for the purposes of reporting and are required to fill out the entire bi-monthly report form.
This order replaces FORCECOM Order 1312-A, dated 9 October 2015.
In Service to Her Majesty, the Queen!
Michael Houghtaling, KSK, KDE, MC, SC, OG, NS, DSO
General, RMMC
Deputy Commanding Officer, Marine Forces Command
Baron Sutherland
By direction of:
Shirley Kunz, KSK, KDE, MC, DSO, GS, QBM, CBM
General, RMMC
Commanding Officer, Marine Forces Command (COMFORCECOM)
From one running convention promotion to another! It's all about the conventions in Second Fleet these days.
MARCON 2023 will be held in Columbus, OH over Memorial Day weekend, and is being run by a member of HMS Vixen. Honestly, this is kind of something I was wanting to explore for several years – a non-TRMN convention run by a TRMN member, so this is great!
What is Marcon? The simplest answer is a weekend of fun. It is where everyone that enjoys movies, books, music, art, science, and everything in between comes together in one place to watch, talk about, dress like, sing, and/or learn from like minded people, be they writers, actors, scientists, artists, professionals of all kinds, or simply fans. MARCON has been running since 1966, and I hope it keeps going.
Of special interest to us is David Weber as GoH. He was last the Guest of Honor 20 years ago, so it is time to return to Columbus for the weekend and show our support!
JUST ANNOUNCED! Register using the code TRMN and the convention will donate $5 towards our party room! Click below to get registered!

Here is the announcement that you all have been waiting for. We collected over $4,600 with which we were able to purchase over 625 bears. The final standings are as follows:
Third (San Martino) Fleet – $1,433.51
Second (Gryphon) Fleet – $973.71
First (Home) Fleet – $930.83
Seventh (Andermani) Fleet – $588.50
Tenth (Talbott) Fleet – $218.55
RMA (Royal Manticoran Army) – $121.36
Eighth (Basilisk) Fleet – $81.83
Fourth (Grayson) Fleet – $78.46
Sixth (Sphinx) Fleet – $34.01
Thirteenth (Silesian) Fleet – $10.00
Congratulations to Third Fleet, they are this year's Grand Teddy Bears. Thank you to everyone who participated and BZ TRMN for a job well done!!!
December Blood Drive Challenge
From: CO, HMS Vixen
RE: Showing Those Marines Their Place
Crew,
It has come to my attention that COL Tizura, RMMC, has been narfing about the ship claiming that the 'button pushers' – that would be our noble RMN crew – are too afraid of getting our uniforms dirty to do the 'real work' of the RMMC. He claims that the Navy trembles at the sight of blood, and that we haven't the courage to shed our precious bodily fluid for the glory of Her Majesty.
This affront must not stand! I call on all loyal subjects of Her Majesty's Navy to join me in donating blood to support our local hospitals in need during this pandemic! Show these crayon-eaters that we can and will shed blood for a worthy cause (and not just for the 64 pack with sharpener)!
CDR Lisa Ann Wiedemann, QCB, GCE, MC, KR, SC, DGC, OG, GS, QBM, CBM
CO, HMS Vixen
From: COL 'Russian' Tizura
RE: Time To Show The Navy What For!
Marines,
The vacuum-suckers think they have the courage to stand with us on the field of honor! They claim to not fear the sight of blood, and that they will easily donate more than our Marines.
Not likely! Marines lead the way, and we will in this as well. As you know, there has been a shortage of blood this year due to the ongoing pandemic. We all need to do our part! So I am calling on all of us to part with a spot of the kroovy and help our fellow citizens!
Now get out there, and prove yourselves! We are MARINES, and used to having holes poked in us!
Possimus Perficio!
COL Martin Richard Tizura, , KE, SC, OG, NS, DSO, CGM
HMS Vixen
From: CO, Second Fleet
RE: December 2022 Blood Drive Challenge
Gryphons,
As the pandemic as been ongoing, blood donations have dropped. Sadly, the demand for blood products has not. In order to assist the hospitals in our operational area, I am pleased to see this friendly (it is friendly, right…) competition between branches.
Between December 1 and December 31, donate blood and post a photo of you doing so to the HMS Vixen Discord (https://discord.gg/QynkCaUQ6P in the #blood-wars channel). Preferably in uniform of some kind. If you are not RMN or RMMM, pick a team to add your donation to. There will be an award for all who donate, and a higher award for the team who donated the most.
If you can donate COVID plasma, and do, please say so. I will track that separately.
If you cannot donate blood, and can support the mission of your local blood bank in another way, post that too. Thank you, and let's be about it!
RADM Geoffrey Strayer, GCE, KCR, SC, OG, CGM, GS, QBM
CO, Second (Gryphon) Fleet
Baron Oak Forest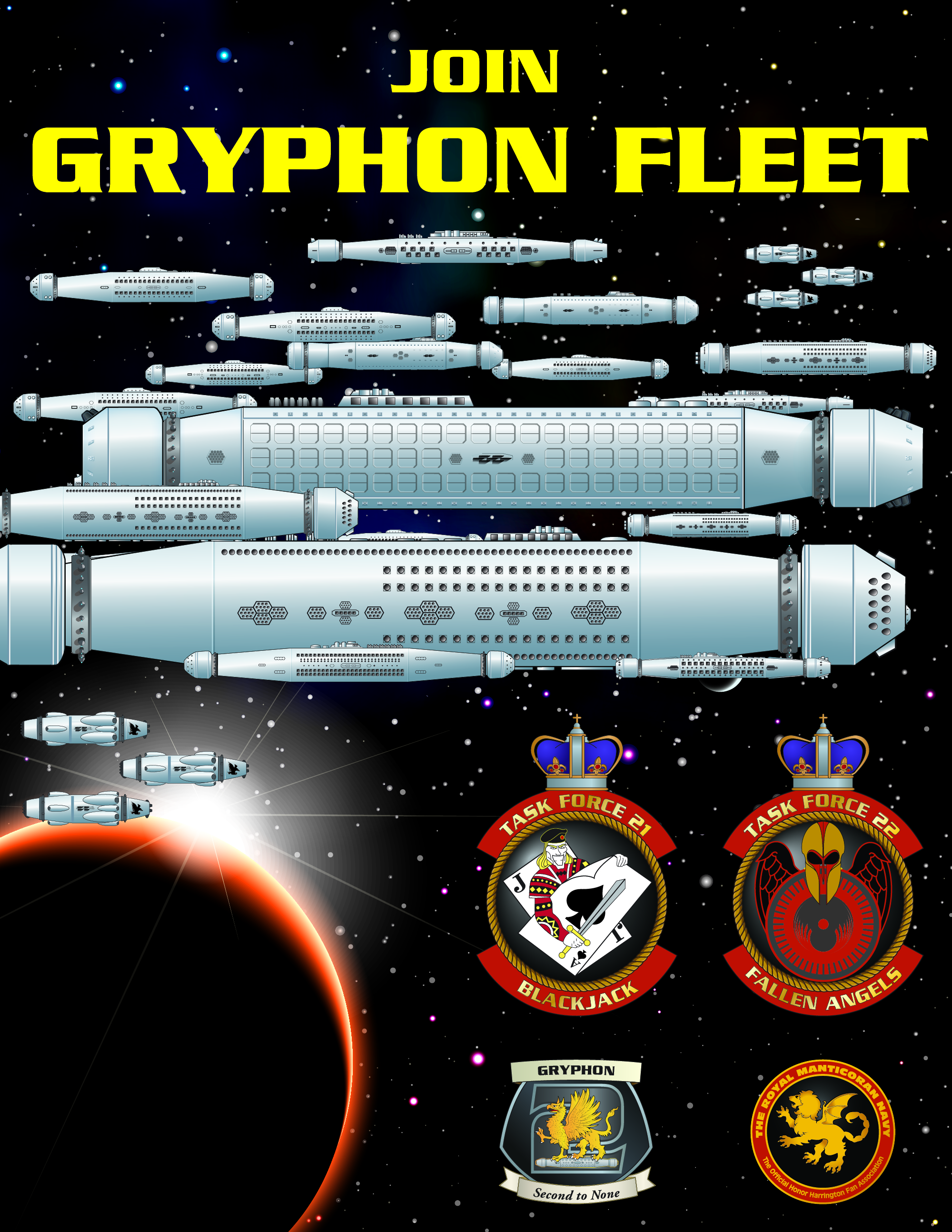 The Bureau of Planning is excited to announce the launch of ConStack. This cooperative project between BuPlan and BuComm is now a fabulous new tool that puts information about over 2,000 conventions at your fingertips. All members of TRMN and the public can view ConStack at:
https://constack.trmnbureaus.info/
If you see that an event is missing or has incorrect information, contact your Fleet's BuPlan Intel Agent or Branch Liaison and they will get it updated.
By order of CO 2nd Fleet, the following marksmanship awards are issued effective 1 December, 2022:
PISTOL MARKSMANSHIP CERTIFICATE:

S1C James FISHER, RMN HMS Interloper
LCDR Patrick Ardan GIESE, RMN HMS Invincible

RIFLE HIGH EXPERT AWARD:

SMCPO Rick WATERSON, RMN HMS Demon
The Tradition Lives!
For CO 2nd Fleet:
Issued by:
KEVIN WALSH, NS
Senior Chief Petty Officer, RMN
2nd Fleet Range Officer
Manticore Cross
CAPTSG Samuel DIETZMANN, RMN HMS Demon
CDR Lisa WIEDEMANN, RMN HMS Vixen
Saganami Cross
LTJG Tiffany KAMPERSAL, RMN HMS Hexapuma
CDRE Justin F. DUPRAS, RMN HMS Demon
Distinguished Gallantry Cross
SMCPO Rick WATERSON, RMN HMS Demon
Order of Gallantry
CAPTSG Kerry KUHN, RMN HMS Hexapuma
CAPTJG Gordon KLEIN-LEBBINK, RMN HMS Ajax
Conspicuous Gallantry Medal
CPO Tammy Lynn STRAYER, RMN HMS Vixen
SCPO James FORGIE, RMN HMS Interloper
SMCPO Rick WATERSON, RMN HMS Demon
S2C JJ BRUTSMAN, RMN HMS Hexapuma
Gryphon Star
LTSG Steve GALPIN, RMN HMS Interloper
Navy Achievement Medal
PO1 Robin Olwen BRAIL, RMN HMS Enterprise
S2C David WILLIAMS, RMN HMS Interloper
LCDR Nathan A CAMARDA, RMN HMS Interloper
LTJG William Edward NELSON, RMN HMS Interloper
CPO Franklin GINGRICH, RMN HMS Interloper
Prisoner of War Medal
CDR Lisa WIEDEMANN, RMN HMS Vixen
Non-Commissioned Officer Senior Course Ribbon
CPO Stephen BAKER, RMN HMS Galahad
Combat Infantry Badge
CAPTJG Dean MCCLURE, RMN HMS Helen
LTSG Steve GALPIN, RMN HMS Interloper
Ranks on awards are listed at the time of award, and may have changed by publication.
August – September Honors – Promotions
Congratulations are extended to the following members on the occasion of their promotions as noted.
HMS Helen
Louis J Bosse to Spacer 2nd Class effective 20 November, 2022
HMS Hexapuma
JJ Brutsman to Spacer 2nd Class effective 2 November, 2022
HMS Interloper
Matthew Davies to Petty Officer 3rd Class effective 10 November, 2022
David Williams to Spacer 2nd Class, effective 19 November, 2022
Justin Ekis to Analyst, effective 19 November, 2022
HMS Vixen
Debbie L. Fligelman to Platoon Sergeant, effective 12 November, 2022
Anthony Lee Gillian to Steward Petty Officer 2/c, effective 14 November, 2022
Paul J Grutzmacher IV to Spacer 2nd Class, effective 14 November, 2022
Magpie Lee Kane to Spacer 2nd Class, effective 14 November, 2022
Joseph S Kauzlarich to Spacer 2nd Class, effective 14 November, 2022
Goddess Erica to Clerk, effective 14 November, 2022
Fleet Command & Staff Information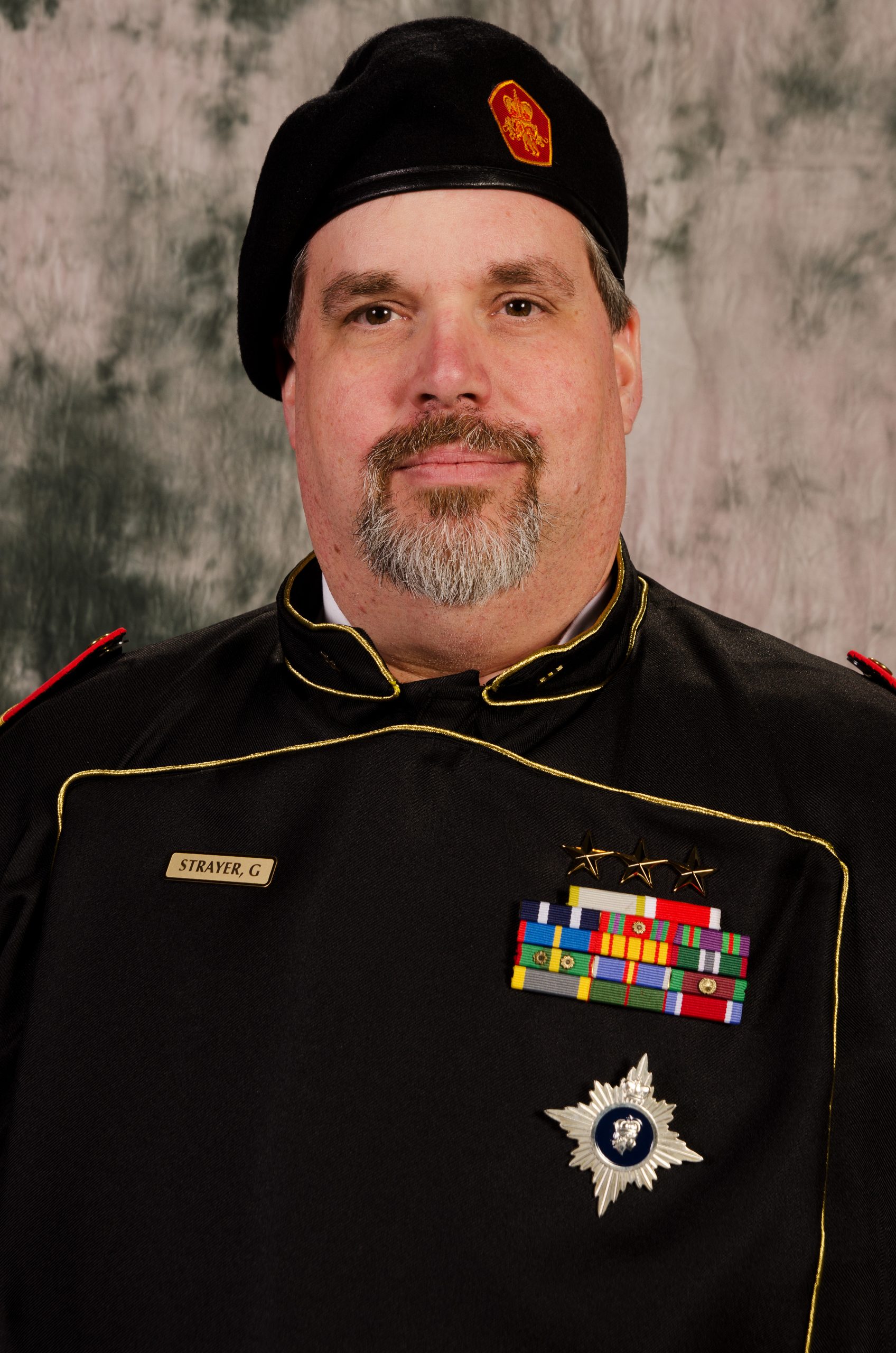 CO, Gryphon Fleet
co@gryphonfleet.org
Rear Admiral of the Green Geoffrey Strayer, GCE, KR, SC, OG, CGM, GS
Baron Oak Forest
Bosun, Gryphon Fleet
bosun@2ndfleet.trmn.org
Senior Master Chief Intelligence Mate
Kevin Walsh, NS, QBM
Chief of Staff
cos@gryphonfleet.org
Captain, Senior Grade Kerry Kuhn
Flag Captain
co@hmsgryphon.trmn.org
Captain, Junior Grade Christina Swanson
Flag Lieutenant
flaglt@gryphonfleet.org
Captain Senior Grade Kerry Kuhn
Fleet Medical NCOIC
medical@gryphonfleet.org
Intelligence Specialist
intel@2ndfleet.trmn.org
Lieutenant Commander David Oliver Kling
Operations Officer
operations@gryphonfleet.org
Lieutenant Commander Patrick Giese
Personnel Officer
Captain (SG)
Jamey Salsberg
KDE, MC, OC
Range Officer
marksmanship@2ndfleet.trmn.org
Senior Master Chief Intelligence Mate
Kevin Walsh, NS, QBM
RMACS Liaison
ascl@gryphonfleet.org
Captain, Junior Grade Christina Swanson
Training Officer
bosun@hmsgryphon.trmn.org
Senior Chief Petty Officer
Derek Firehawk Sauls
Gryphon Fleet Order of Battle
Task Force 21
Covering Minnesota, Wisconsin, and the Upper Peninsula of Michigan
Destroyer Squadron 265
HMS Javelin (DD-264), Big Lake, MN
HMS Lodestone (DD-64), Elk River, MN
HMS Merlin (CA-270), St. Cloud, MN
Independent Commands
HMS Hellhound (DD-446), St. Paul, MN
HMS Invincible (SD-455), Plymouth, MN
HMS Intrepid (SD-463), Willmar, MN
HMS Leonidas (BC-584), Grand Forks, ND
HMS Valkyrie (SD-355), Minneapolis, MN
Independent Commands
HMS Borzoi (DD-438), River Falls, WI
HMS Gawain (DD-481), Madison, WI
HMS Musashi (BC-775), Milwaukee, WI
Task Force 22
Covering Illinois, Indiana, Kentucky, Ohio, and the Lower Peninsula of Michigan
LAC Wing 62
GSNLAC Lilla Björn, Marquette, MI
HMLAC Scythe, Portage, Indiana
Independent Commands
HMS Apollo (CL-80), Lafayette, IN
HMS Gryphon (SD-153), Indianapolis, IN
HMS Menelaus (BC-569), Rantoul, IL
HMS Samurai (CL-356), Goshen, IN
HMS Wolfhound (DD-437), Mt. Prospect, IL
Cruiser Division 711
HMS Death Claw (CA-437), Cincinnati, OH
HMS Sabrepike (CA-417), Franklin, OH
Independent Commands
HMS Ajax (BC-545), Windsor, Ontario
HMS Beowulf (BC-739), Lansing, MI
HMS Enterprise (BC-480), Rochester Hills, MI
HMS Helen (BC-570), Fruitport, MI
Independent Commands
HMS Demon (CLAC-62), Milwaukee, WI
HMS Galahad (DD-478), Columbus, OH
HMS Hexapuma (CA-412), Rockford, IL
HMS Interloper (SD-460), Muncie, IN
HMS Vixen (DD-174), Chicago, IL
Task Group 21.1
CAPTSG Jill McTavish
Destroyer Squadron 265
CAPTSG Paladin Meyer
Task Group 21.2
CAPTJG Timothy Bailey
Task Force 22
CDRE Justin Dupras
Task Group 22.1
CAPTSG Michael Flanagan
Task Group 22.3
CAPTSG Jackie Snedden
Cruiser Division 711
CAPTJG Kevin Johnson
Task Group 22.4
CAPTSG Samuel Dietzmann